Workplace Health and Safety: An Employer's 'Duty of Care' – Active shooter incident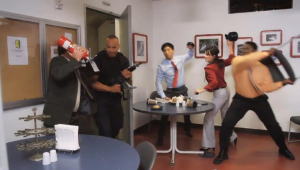 '
Active Shooter incident: What is your 'Duty of Care?
In the event of an 'Active shooter' incident what is your workplace 'Duty of Care'? What steps are your business taking to prepare and protect people against an'active shooter' incident?
Who is an 'active shooter'?
An 'active shooter' is an individual armed with a firearm who is actively engaged in killing or attempting to cause serious harm to groups of people in a populated location.
Who is at risk?
All people are potentially at risk. 'Places of mass gathering' (PMG) such as sporting and entertainment venues, and transport hubs are attractive targets for religious and political extremists, disgruntled or emotionally unstable individuals. Firearms continue to be the most likely method of attack.
How safe is Australia?
In Australia,'active shooter' mass casualty attacks continue to be a real and persistent threat to our community. According to a United States Homeland Security Report, Australia is currently listed as equal third with the UK (behind the US and France) of Western nations that are on the ISIL target list. These figures are based on attacks that have been successfully carried out as well as those that have been thwarted by authorities.
Duty of Care
Under the Workplace Health and Safety Act 2011, organisations (PCBU) have a primary 'duty of care' to consider and provide guidance as to the prevention, preparedness, response and recovery from activities associated with 'violence in the workplace'. The probability of an 'active shooter' incident occurring in Australia emanates from the rise of global terrorism as well as from domestic related incidents. According to the Australian and New Zealand Counter Terrorism Committee, Active Shooter Guidelines 2013,
 "Places of mass gathering (PMG) can pose a broad range of security challenges for their owners and operators… Government and private sector stakeholders must work cooperatively to ensure that integrated and effective plans and arrangements are in place to prevent or reduce the impact of such incidents."
In consideration of their 'duty of care', Government and private businesses have an overarching commitment to security risk mitigation by instituting a contingency plan for the probability of an 'active shooter' incident.
Strong's Security Services
As a specialist tactical security provider, Strong's Security Services has the knowledge and experience to assist business to mitigate this potential workplace security risk.
Strategic thinking + tactical engagement = risk mitigation 
References
Australia- New Zealand, Active Shooter Guidelines for Places of Mass Gatherings, Attorney General's Department, 2013
Benson S., 'Terror: Australia Ranked Equal Third on ISIS target list US Homeland Security report says', The Daily Telegraph, 4 August, 2016
Hodgins, 'Responding to "Active Shooter'" Incidents in Australia, March 2015, 2015, Research Gate [Accessed August 2016]
National Counter-Terrorism Committee, 'National Guidelines for the Protection of Places of Mass Gathering from Terrorism', 2011.
National Counter-Terrorism Committee, 'National Guidelines for Protecting Critical Infrastructure from Terrorism', 2015.
Image supplied by www.usafirearmtraining.com/training-2