Strongs Self Defence Training & Essential Self Protection
For some individuals self defence capability is a personal necessity. And for many industries dealing directly with the public it's also a crucial component to the long-term sustainability of business operations. It makes your employees feel more valued, secure, capable and confident.
---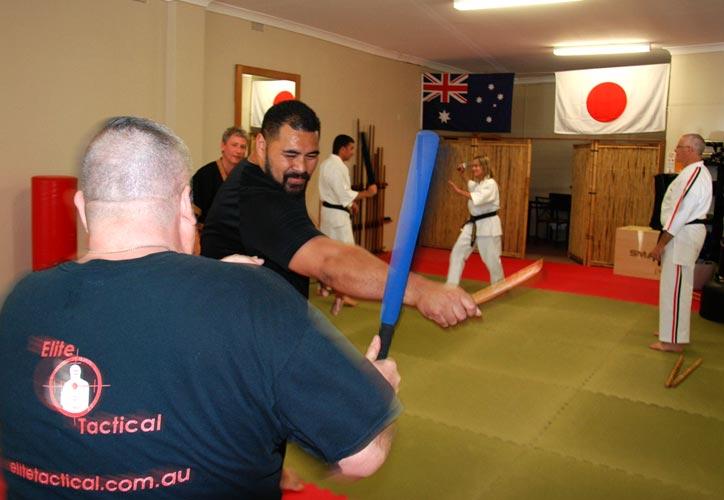 In a study commissioned by the Department of Social Services with Partnerships Against Domestic Violence (PADV), domestic violence costs the Australian economy more than $8 Billion every year, and $484 million is the direct cost to the government and business sectors.1
Violence, regardless if it happens within the workplace our outside, can result in significant physical and or psychological damage to your employees. It decreases their productivity because they are scared or stressed to perform well at work. Self defence training can be key.
Under The Work Health and Safety (WHS) regulations, it is your obligation and part of your due diligence to make sure that your employees are working in a healthy and safe environment. Beyond providing health and dental coverage, it is also in the best interest of the company to equip your employees with the proper knowledge and skills to avert occupational violence.
Ask how our self defence training can help you. 
---
Reduce Workplace Violence with Self Defence Training in Sydney & NSW
Strongs Security Services offers the Essential Self Protection (ESP) program, which is a course that can help employers design strategies and develop the skill set required in preventing violence and aggression in the workplace. This course will help your employees to defend themselves using simple yet effective defensive tactics skills.
What are the benefits of the ESP Training?
Teaches self defence as a life-saving skill
Helps in reducing the incidence of workplace violence
Boosts employee self- esteem and confidence
Improves employee discipline, critical thinking, and overall morale
---
Why Hire Strongs Security Services to Conduct Self Defence Training?
Learn from those who know. Scott Brown, the Managing Director of Strongs Security Services as well as the Director and Facilitator of EPS, is an expert in self defence.
Decades of Experience. Strongs Security is a licensed Master Consultancy and Training Provider involved in the security industry since 1987. We have trained more than 3,500 ESP participants to date.
Cost-Effective Solution. Our specialised self defence training is an affordable program that will enhance your personal

 

safety, or those of your employees.
1Australian Government, Department of Social Services and Partnerships Against Domestic Violence (PADV)
---
Prevent workplace violence before it happens.
Call us today on 0493 606 979 (mobile) or 02 9188 8832 (phone)
---